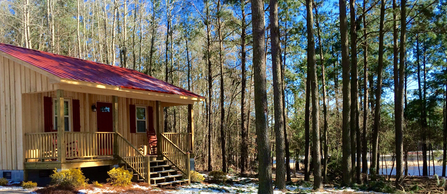 Just in time for Valentine's Day, Lu Mil Vineyard unveiled its three newest additions: Three new Vineyard Cabins for guests to enjoy. This brings the total number of cabins at Lu Mil Vineyard to nine! Cabins numbers 7, 8, and 9 each offer their own unique views and amenities.

Cabin #7 is closer to several of our venues, making it perfect for guests at a wedding or event to get to and from.
Cabin #8 boasts gorgeous views of both the Vineyard and the pond.
Cabin #9 is more secluded and offers guests a more private getaway.

All three cabins offer the same deluxe accommodations as Cabins numbers 1, 2, and 3, most notably the red Whirlpool heart-shaped hot tubs. Also available in every one of our nine cabins is DirecTV service, as well as a private bathroom with shower and a kitchenette area with coffee pot, sink, and microwave.

Reservations are filling up quickly, so make sure to call (910) 866-5819 to book your stay at Lu Mil Vineyard today!