The History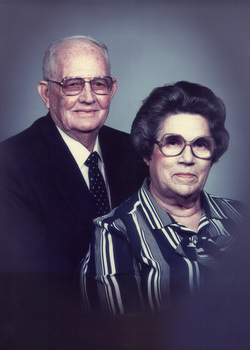 Lu Mil Vineyard sits on the family farm site of the late Lucille and Miller Taylor, on Suggs-Taylor Rd, in Dublin, NC. The vineyard was named in their honor. The Taylor family has been a leader in agricultural equipment development for many years; the family farm site has served as a testing ground for their innovative creations. As a way to test their ideas for new machinery for the growing viticulture industry, their Muscadine vineyard was born. The vineyard has grown to over 58 acres in the last five years.
With the grapes producing well, the first estate wines were produced from Lu Mil Vineyard's 2005 Muscadine grape harvest, and, in December 2005 the vineyard's Gift Shop and Tasting Room officially opened to the public. Lu Mil Vineyard offers Muscadine wines as: Old Cumberland, Taylor Divine, Bladen Blush, Harmony Hall, Cape Owen Red, Sir Walter Raleigh and Merry Christmas, a limited production seasonal wine. Additionally, jellies, jams, alcohol free wines, juices, ciders, sauces, syrup and grape seed extract pills have been produced from Lu Mil's vines.

---
---
Lu Mil Vineyard is a family friendly, multi-use facility. By renovating one of the farm's barns, The Barrel Room, was created. It is a beautiful space for receptions, parties, reunions, and other events. In October 2006, Lu Mil Vineyard opened the doors to its largest facility, an 8,000 sq. ft. building, which houses our Gift Shop and Tasting Room, as well as "Creekside" (our 6,000 sq. ft. entertainment venue with a state-of-the-art audio/video system) which will accommodate up to 550 seated guests. The wrap-around covered porches provide a lovely spot to relax and view the scenic vineyard and enjoy a cool beverage. "The Barrel Room", "Creekside" and Lu Mil's outdoor facilities are available to groups who want to play host to events large or small.

---
The "Vineyard Cabins" have spectacular views of our expansive vineyard and beautiful lakes. They sleep two to four comfortably and come equipped with all linens, refrigerator, microwave, coffee maker and full bath and porches that overlook the vineyard and water. Cabins #1, 2, 3, 7, 8 & 9 also include a red heart-shaped Jacuzzi tub. All nine cabins are available for nightly rental.

---
"The Taylor House" is available for overnight stays. It is a four-bedroom ranch style house located on the grounds. Decorated reminiscent of the 1970's; you can step back in time at the home place of Lucille and Miller Taylor.

---
Enjoy the relaxed atmosphere of Lu Mil and indulge yourself with an afternoon on Doc's Deck, take a walk through the vineyard, rent a golf cart, pedal kart, or bike, browse the antique museum in the Barrel Room, enjoy a few minutes admiring God's creations, or spend the night in one of the vineyard cabins.

---
We would suggest you consider Lu Mil Vineyard as the venue for your next event or just a place to enjoy a relaxed overnight stay. We offer seclusion with all the comforts you need for a private, peaceful getaway that is far enough away for complete rest and quiet, yet centered in the Coastal Plains of Southeastern North Carolina.

---
Call the Lu Mil Vineyard Gift Shop at 910-866-5819 or 910-862-1603 for information about the vineyard or to schedule an event.

---
D'VINE FOODS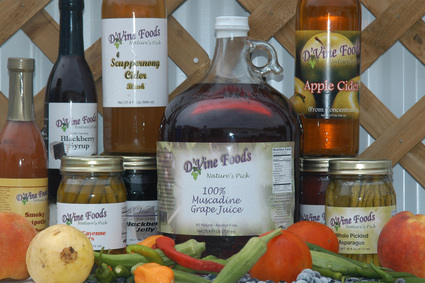 GOOD NEWS FOR PRODUCE FARMERS… Along with manufacturing farm equipment and the popular Taylor Waterstove, agri-tourism, growing grapes & selling wine, Ron Taylor continues to diversify the family businesses with D'Vine Foods. "When we opened Lu Mil Vineyard we looked for someone to make our jams, jellies and pasteurized juice from our own grapes that operated under FDA guidelines, "Taylor says, "but there was no such local company. Several would private label products, but no one would take our fruit, process it, and put our private label on it. We want to sell quality products that we know are handled in a safe manner". Lu Mil Vineyard began processing some of their homegrown fruit in a small way. When the demand for their own products increased and the fact that other farmers wanted the same service, they soon realized that there was a need for a processor who would take local grown fruits and vegetables, contract package them for the farmer with their private label. Therefore, D'Vine Foods was created. For more information, visit
www.dvinefoods.com
.

---