---
---
Welcome to the Lu Mil Vineyard Online Shop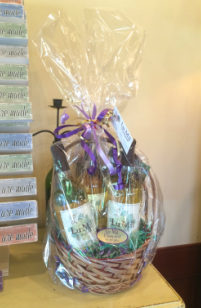 Here, you can purchase various items produced by
D'Vine Foods
, our sister company, that consists of incredible stocks of jellies, jams, juices, and more. D'Vine Foods is an FDA inspected facility and we pride ourselves on buying from local farmers and using all natural ingredients to produce that down home taste in our products. To begin shopping, either click any category in the links above or under "Online Shop" in the top menu. Feel free to add any item to your cart in as many or as few categories as you would like; they all go to the same cart and can all be purchased at one time. When you're finished, select "View Cart" in the cart in the bottom right corner of your screen and proceed through the PayPal checkout screen.
---
---
A Note on Shipping
All shipping is UPS Standard Ground and all prices are determined by the total weight of the order. You must have a physical address to have items shipped to you; no PO boxes!

For orders shipping to the states of Hawaii, Alaska, California, Washington, Oregon, or Nevada, please call (800) 545-2293 to place your order.
Due to fluctuating shipping costs to these states, we are unable to process orders placed online at this time. We are happy to fulfill all orders placed over the phone to any state.

---
A Note on Ingredients
Lu Mil Vineyard and our sister company, D'Vine Foods, strive to bring you only the best products made with the freshest fruits and vegetables and few additives. As such, our processes are constantly changing. The ingredient sections on this site may no longer reflect the same ingredients in the products you buy, though the products themselves will have the correct information when you receive them. D'Vine Foods products are no longer made with any artificial flavorings or colors and the Pectin Mix used in jams, jellies, and other products now uses Sucrose rather than Dextrose to provide a more natural product.
Feel free to
contact us
with any questions or comments about our products or the online shop.